25

Apr, 2023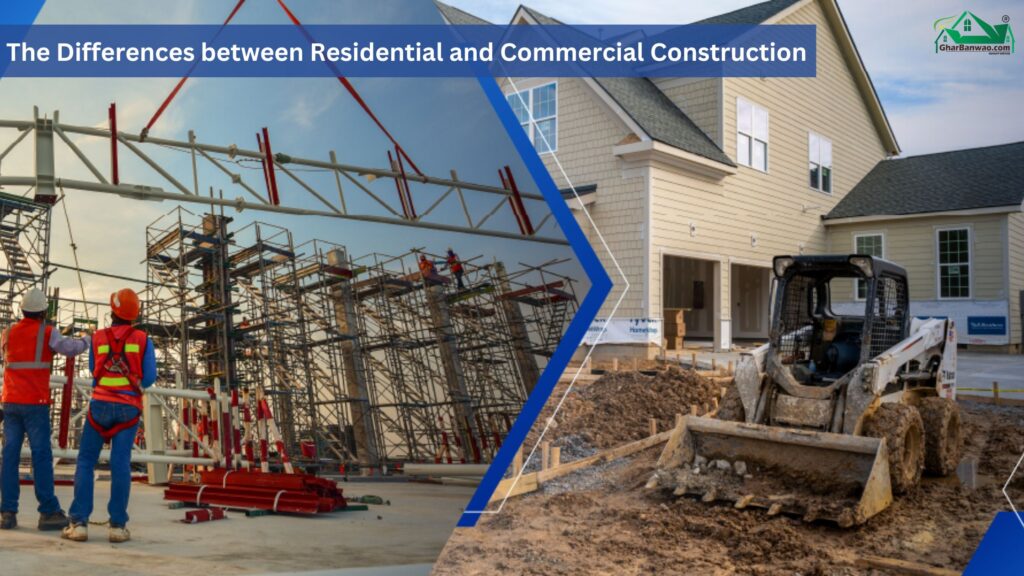 Residential construction and commercial construction currently occupy a large portion of the construction space. More and more housing developments are taking place with the growing population to meet the housing requirements as well as the increasing demand for amenities for the masses.
Residential building construction is done for buildings that are intended for living, while commercial buildings have much more diverse properties that are used for business purposes. Apartments and single houses can be considered residential structures, while large residential complexes and privately owned public spaces are examples of commercial structures. Residential construction includes single-family homes, townhouses, condominiums, duplexes, etc., and commercial construction includes hospitals, shopping complexes, office spaces, warehouses, etc.
The Differences between residential and commercial construction
There are many significant differences between residential and commercial building construction based on the codes used, building materials, costs, equipment, schedules, etc. These differences have been properly explained below based on the respective functional purposes and requirements.
Cost of construction and maintenance: The construction of commercial buildings is much more expensive than the construction of residential buildings in general. The huge difference in cost for the two types of buildings is not only due to regulatory licenses and codes to be followed and the cost of materials used but also due to overhead costs, equipment used, and the number of workers involved and their required skills. Workers involved in commercial construction may have an enhanced skill set and a completely different hiring process that is necessary for this type of construction. The costs associated with the acquisition of materials for both types of construction and the acquisition and use of various equipment are also very different. Residential buildings are usually financed by individuals, while commercial buildings are generally financed by government firms, wealthy businessmen, bank-sponsored corporations, real estate developers, etc. The construction of commercial buildings is not complete without an intermediary known as a contractor who takes care of the entire project. , manage it, and even hire subcontractors to perform specific tasks.
These additional costs are generally unnecessary for residential buildings. Residential buildings are built according to the demand of homeowners, while commercial building structures are built accordingly for different business owners who will occupy different places in the structure of the commercial building. Residential buildings are designed for a much smaller load capacity than commercial buildings. Due to the mysterious nature of a commercial building, much of the heavy and expensive equipment used and the resulting high budget, the construction of commercial buildings and the equipment used are more often than not insured against any damage.
Housing construction, on the other hand, does not include these costs due to the low probability of damage. The maintenance costs required in commercial buildings are also much higher than in residential buildings. Commercial buildings are preferred because of the high return on investment upon completion and the profitable businesses that can be run in them.
Estimated Time – The construction of commercial buildings is used for business purposes, so it must be completed at a faster pace and within a lower time limit to generate the required revenue from business ventures. This is the reason why the construction of commercial buildings is completed in less time compared to residential buildings. There is no rush to complete a residential house as there is no urgency involved. Due to the huge budget involved in the construction of commercial buildings, owners order their contractors to complete the project in a competitive time frame to save labor and equipment costs over a longer period of time. Commercial buildings today are assisted by various semi-automated and automated processes such as prefabricated components, software tools for design and maintenance purposes, power tools, etc.
Materials Used- The construction materials used in the creation of structural elements vary widely for both the residential and commercial building construction process. The properties of materials used for the construction of commercial buildings can be stronger and a level higher in their durability and strength properties. Heavy steel reinforcement, higher-grade cement, and finer sand are used in commercial buildings. Due to the huge amount of money invested by the owner, the materials should be checked and checked for quality as required by the construction project. Prefabs are rarely used in residential construction, but the use of prefabs is somewhat inevitable, which is accepted in commercial building construction due to time constraints, demands for better construction quality, and generally much more steps.
Equipment Used – The construction of commercial buildings requires the use of sophisticated specialized and heavy equipment due to its large scale and structural complexity. Commercial construction may require heavy equipment such as cranes, earthmoving machines, bulldozers, dump trucks, etc. During the commercial construction process, the surrounding areas are affected by noise nuisance, waste generated, and the impact of heavy work going on at the construction site. in the construction of residential houses, there is no search disturbance and the surrounding neighbors can go about their usual business. Residential construction rarely uses any type of heavy equipment and at most concrete mixers or concrete pumps are used.
Regulations and Rules – Any construction process requires prior permission from the relevant local authorities and a specific set of regulations to be followed for that type of construction. The criteria set for obtaining permit documents to start a construction project are usually more stringent and time-consuming due to the greater number of regulations that commercial building construction must comply with. For almost every aspect of construction involved in building a commercial structure, such as materials, structural elements, etc., there is a specific code that must be used to build the designed strength and shape. One of the main aspects of any construction process is the safety regulations that have been put in place to protect workers and resources. These sets of safety regulations are less in residential building construction as compared to commercial building construction because the numerous risks associated with commercial building construction are quite high.
Design flexibility – Residential building construction can be personalized and designed creatively as per the owner's choice, while any changes in commercial building construction are quite hectic and not preferred due to huge complexity which can lead to higher costs and undesirable results. Any design changes in housing construction can be easily adopted due to their small construction.
Also Read:- Essential Things To Be Included In A Construction Estimate
Whatever the construction, it must be managed on time and within a fixed budget. Without proper management, any small or large-scale construction project can get lost at any stage of the project. To help contractors and owners manage construction projects, several software has been developed that can be used as construction project management tools. Powerplay is one such tool that can perform all functions related to construction management from labor attendance management to equipment and material management to project completion. With its easy and user-friendly user interface, it can be easily used by almost anyone.
Ghar Banwao is Best Construction company in Lucknow , providing one stop Solution in Architect, Construction with Material,Interior designer.
Final Word
I hope this article contains all the answers to The Differences between Residential and Commercial Construction, answered in simple words, step by step. If you liked the article, check out our site for more content.