16

Aug, 2023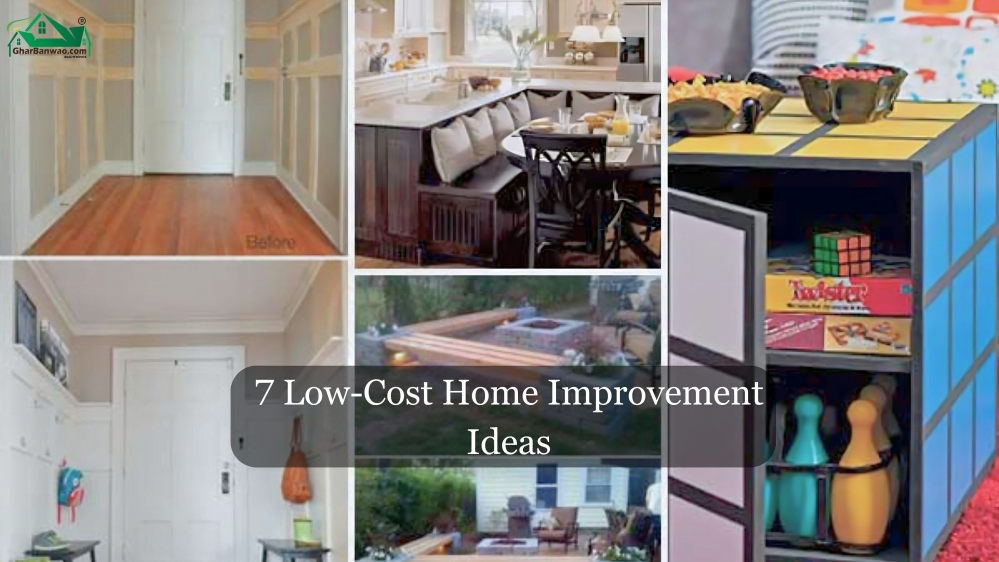 Home remodeling and renovations are often seen as a costly luxury that only the wealthy can afford. This is not correct. While certain home improvement ideas projects can be costly, with interior designers and contractors asking excessive fees, some are basic, effective, and inexpensive. What you must remember is that home Home Improvement Ideas modifications or renovations raise the value and appeal of your house. However, appropriate planning is necessary for this, or else things can soon get out of hand.
Here are some home renovation suggestions that will increase the worth of your home without increasing your costs. Furthermore, while some may require professional assistance, others are do-it-yourself (DIY) projects that you may complete on your own.
1. Remodel your kitchen – The kitchen is the most significant room in every home. It's where you spend your time preparing beloved dishes for yourself and your family. As a result, your kitchen must be well-decorated and tidy. However, a complete kitchen redesign can be costly. However, you can always give your existing room a fast facelift.
Change the lighting fixtures – Unless the paint is peeling off the walls, it is easier to just change the lighting fixtures rather than stretching your budget by painting every wall and corner and purchasing new furniture and appliances. Good lighting can make or break the atmosphere.
Refurbish rather than replace- If you're on a tight budget, consider renovating existing cabinets and accessories that are still working. on give your cabinets and other furniture a fresh look, paint them, or apply a new veneer on the outside of them.
Install racks – Wherever possible, use racks instead of cabinets to boost utility and save space. It will also help to organize your kitchen without breaking the bank.
2. Apply a fresh coat of paint to your home – Newly painted homes appear new and inviting. Choose strong and brilliant colors to restore life to your forgotten places.
3. Alter your decor scheme – Changing your home décor theme can offer your home a completely new look. All you have to do is tweak the settings, reposition your sofas, and get rid of old lampshades. Plan your buying around promotions and discounts at furniture and home decor retailers. Add some decor items such as paintings, statues, and so on, and your home will seem brand new!
4. Convert your balcony or terrace garden into a patio – If you have some extra space in your backyard or on your terrace, you can turn it into a patio. Install some swings, chairs, a coffee table, and other furniture to make it all usable. After that, you can enjoy your morning coffee or tea.
5. Bring some plants into the house – Indoor plants can help to freshen the air and liven up the atmosphere. These can offer colour, softness, and even resemble a garden.
6. Refresh your bathroom – Replace the tiles and add some innovative storage solutions to give your bathroom a whole new look! Floating shelves, corner racks, and fashionable hooks are all excellent choices. You can also adjust the light fittings.
7. Use wallpaper – If you can't afford to paint the entire house, use wallpaper in your bedroom or living room and paint the ceiling a matching colour. These will be far less expensive.
Also Read:- Choosing a Paint Color For Your New Home
Conclusion
The easy home remodeling suggestions described above are inexpensive and will revitalize your property. However, you will still need money to fund these home renovation projects. So, use your monthly income sensibly and avoid raiding your funds.
Let rapid cash loans come to your aid instead. You may finance your home repair project with no worries thanks to these short-term loans. Not only that, but these basic home repair techniques add value to a property and generate significant returns if you decide to sell it in the future.
Ghar Banwao is Construction company in Lucknow , providing one stop Solution in Architect, Construction with Material, and Interior designer.
Final Word
I hope this article contains all the answers to the 7 Low-Cost Home Improvement Ideas, answered in simple words, step by step. If you liked the article, check out our site for more such content.