6

Mar, 2023
Holi Decoration Ideas At Home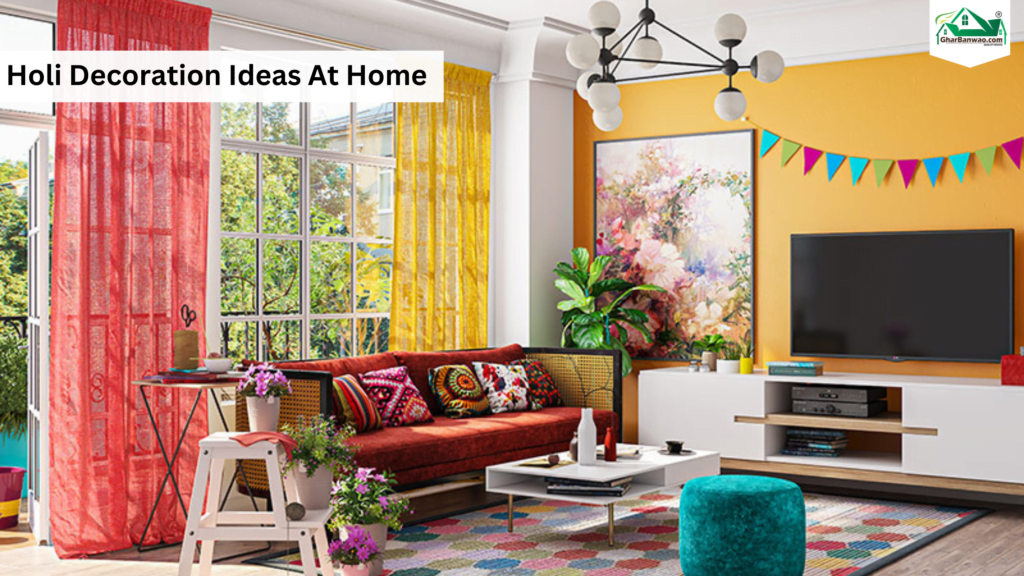 Holi decorations ideas at home Spring is the season of colors and it becomes more colorful with festivals like Holi. Holi, the festival of colors, is celebrated in many ways. But they have one thing in common, namely bright home decorations. Spring is welcomed with great fanfare with Holi. If you haven't thought about Holi decoration ideas for your home, then you are at the right place. Read below some Holi decoration ideas at home and office to have a more colorful festival.
Jazz up the Walls with Wall Art
If you have a plain or dull, boring wall in your house, liven it up with this Holi decoration idea for your home with some cultural patterns and shapes. These will create a festive spiritual theme and at the same time add more color to the wall. Plus, it adds to the festive atmosphere for your family and guests. If you want to add something more, you can choose vibrant wall art. When it comes to wall art, there are a gazillion things you can add as Holi decoration ideas. Choose bright and colorful wall art for a festive yet striking look. Or hang an artistic wall clock to enchant your guests. The same idea can be used as Holi decoration ideas for your office.
Spruce up with Vibrant Cushion Covers and Curtains
After all the rituals and fun activities you do during Holi, you need a place where you can sit comfortably and enjoy. So splurge on cushions if you're in the mood, or if not, at least replace the cushion covers with something cheerful and colorful. Since Holi is a festival where adrenaline and energy are high, place luxurious pillows to stand out from the crowd. Cushions not only increase comfort but also make the space more attractive.
You can also choose some elegant and colorful curtains for your living room and bedroom as part of Holi decoration ideas at home. Choose patterns and colors that are playful and joyful. To make this Holi decoration idea even better, add crystal bowls with petals and floating candles and place them on the table in the middle of the living room. Use the same idea as Holi decoration ideas for your office.
Drape the Floor with Beautiful Area Rugs
Floors are often a neglected area when choosing Holi decoration ideas for your home. Area rugs create wonders when placed on the floor. They come in many designs and finishes to match different decors and help draw attention to the floors. When choosing carpets or rugs, make sure you go with something that is easy to clean. So even if there are some stains left after your party, they are easy to clean. There are many beautiful rugs that can add sparkle to your Holi decoration at home.
Beautiful Lighting
Holi decoration ideas for your home without lights are impossible because Holi requires bright lighting. Lighting the focal point of your home gives off great vibes and energy that shows. You can choose a pendant light, metal curtains, or beautiful terracotta. Paper lanterns suspended from the ceiling are also a good choice of lighting. This can also be a good Holi decoration idea for your office. Then there are the traditional string lights that can be used as outdoor Holi decorations by placing them strategically around the house for beautiful illumination.
Brighten the Corners with Flower Vases
Do you have empty corners that you want to fill? Beautify your house and fill empty corners with flower vases for Holi decoration at home. When choosing flower vases, look for light shades rather than earth tones. Decorate these flower pots with fresh flowers. You can also do the same as Holi decoration ideas for your office. The floral scent and sweet aroma give the whole space a wonderful aura. Another Holi decoration idea is that you can also hang marigolds or strings of roses on the door to give it an elegant look.
Rangoli Designs at the Entrance
Show off your Holi decorations idea at home to your guests and visitors when they enter your house with beautiful rangoli designs. Colorful rangoli is one of those ideas that never go wrong but help to make the home more inviting. Your guests will also be pleasantly surprised by your hosting skills. When choosing Holi home decoration ideas for rangoli, opt for peacock rangolis or Krishna rangolis to bring out your best. If rangoli making is not your skill, you can choose rangoli stickers as outdoor Holi decoration ideas for your home, which are plentiful in the market.
Colorful Dining Table
The dining room is the area where you serve your guests. Add more style to the place by hanging traditional artwork or mythological artwork on the walls as part of the home decoration for a Holi-themed party. It can instantly turn the atmosphere into a festive one. Add beautiful decorative accents to the dining table, such as candlesticks, multi-colored vases, patterned tablecloths, and more. For a more artistic design in your Holi party decoration ideas, you can place Holi colors in small cups and place them on the table as Holi decoration ideas.
Decorate the Balcony
When snacks and drinks are served, the balcony is where guests like to hang out. Hence, it is essential to furnish the patio as another Holi decoration idea to maintain the festive mood. Add painted flower pots, fresh aromatic flowers, and string lights to the balcony. Place a carpet on the floor to brighten it up and hang a garland of Champa, marigold, or rajanigandha for a creative decorative look. You can also make paper flags as outdoor Holi balcony decoration ideas.
Decorate your Study Room
If you are someone who does not want to destroy your living room and the expensive things you have there, one solution is to use a home office. The easiest Holi decoration idea is to add artwork on the walls and a patterned rug on the floor. Paper chains are easy to make, add and maintain for room decoration. This Holi party decor also adds much-needed liveliness to the space. Make it more interesting by adding pots filled with gullal.
Snacks and Drinks
Holi is a festival full of energy and if you are hosting a Holi party, a never-ending supply of drinks and snacks should not be missing. From the signature Bhaang to the lip-smacking Gujiya, they can be made in large batches so you can spend time with your guests instead of going to the kitchen every few minutes. Don't limit Holi decoration ideas to the house or outdoors; serve these snacks and drinks in fancy silverware to up your presentation quotient.
So above are some indoor and outdoor Holi decoration ideas that you can do when you are hosting a party. Holi is the time to redecorate by changing the boring and regular into something colorful. These Holi-themed party ideas match the festive atmosphere, will impress your guests, and make your Holi an unforgettable event. Happy Holi in advance!
Ghar Banwao is Construction company in Lucknow , providing one stop Solution in Architect, Construction with Material,Interior designer.
In final words
I hope this article contains all the answers to Holi Decoration Ideas At Home? answered in simple words, step by step. If you liked the article, check out our site for more such content.