28

Mar, 2023
Mistakes to avoid when building a home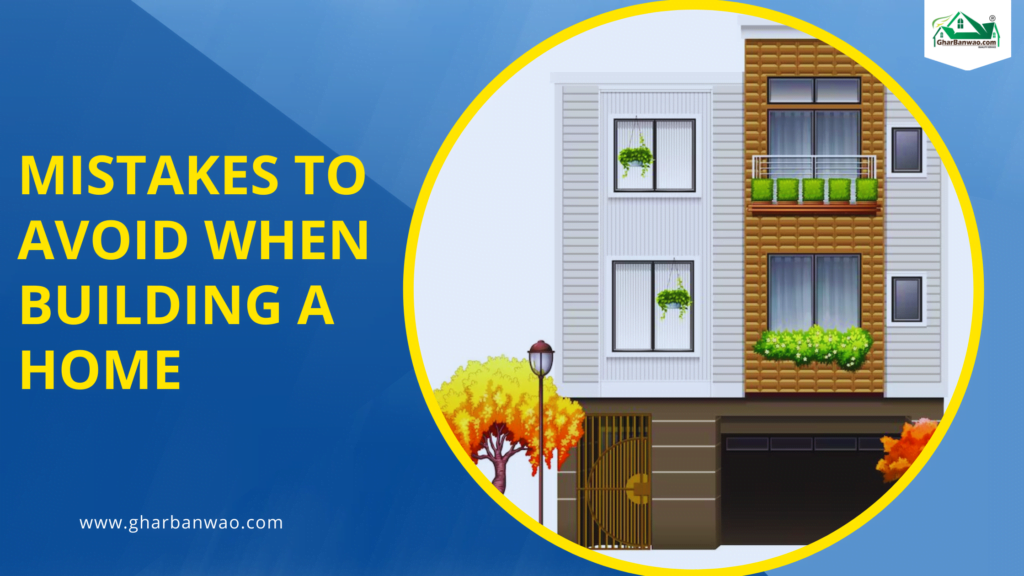 Building a home is a significant investment, both financially and emotionally. It requires careful planning, attention to detail, and making informed decisions. However, even with the best intentions, mistakes can happen that can result in costly repairs, time-consuming delays, and even safety hazards. Here are some common mistakes to avoid when building a home:
Choosing the wrong location
One of the most critical decisions you will make when building a home is choosing the right location. The location of your home can impact your lifestyle, resale value, and even your safety. When choosing a location, consider factors such as accessibility to schools, transportation, shopping centers, and community amenities. Also, think about the neighborhood's safety, potential environmental hazards such as floods, and weather conditions such as heavy winds and storms.
Skipping the planning phase
Rushing into building a home without proper planning can lead to costly mistakes and delays. It's essential to spend adequate time planning your home's design, layout, and materials to ensure that the finished product meets your needs and expectations. Take the time to create detailed blueprints and work with a skilled architect to design a functional and efficient floor plan.
Not working with a reputable builder
Choosing the right builder is crucial to the success of your home building project. Not all builders are created equal, and some may cut corners, use subpar materials, or lack the expertise to complete your project to your satisfaction. Research potential builders, read reviews, and ask for references before signing a contract.
Not sticking to a budget
Building a home can be costly, and it's easy to get carried away with the excitement of designing your dream home. However, failing to stick to a budget can quickly lead to financial strain and even cause the project to come to a halt. Set a realistic budget and work with your builder to create a detailed estimate that includes all materials, labor, and any unforeseen expenses that may arise.
Overlooking energy efficiency
Energy-efficient homes can save you money on utility bills, reduce your carbon footprint, and increase the value of your home. Incorporate energy-efficient features such as solar panels, energy-efficient appliances, and insulation into your home's design. Not only will you save money in the long run, but you will also be doing your part for the environment.
Ignoring local building codes and regulations
Building codes and regulations are put in place to ensure that homes are built safely and meet specific standards. Ignoring local building codes and regulations can result in costly fines, legal issues, and even safety hazards. Work with your builder to ensure that your home is built to code and that all necessary permits and inspections are obtained.
Not prioritizing functionality
When designing your home, it's essential to prioritize functionality over aesthetics. While it's essential to have a beautiful home, it's even more important that it meets your needs and lifestyle. Consider factors such as the number of bedrooms, bathrooms, storage space, and the layout of the kitchen and living areas.
Skimping on quality materials
Choosing quality materials may cost more upfront, but it can save you money in the long run. Cheap materials may deteriorate faster, require frequent repairs, and result in costly replacements. Invest in high-quality materials that are durable, energy-efficient, and aesthetically pleasing.
Not considering resale value
While you may plan to live in your home for many years, life can be unpredictable, and you may need to sell your home in the future. Failing to consider resale value when designing your home can make it difficult to sell and lead to a lower return on your investment. Choose a design that appeals to a broad range of potential buyers and incorporates features that add value to your home, such as a garage, outdoor space, and updated
Ghar Banwao is best Construction company in Lucknow , providing one stop Solution in Architect, Construction with Material,Interior designer.
Final Word
I hope this article contains all the answers to the Mistakes to Avoid When Building a Home answered in simple words, step by step. If you liked the article, check out our site for more such content.