2

May, 2023
How to Design a Perfect Floor Plan for Your Commercial Building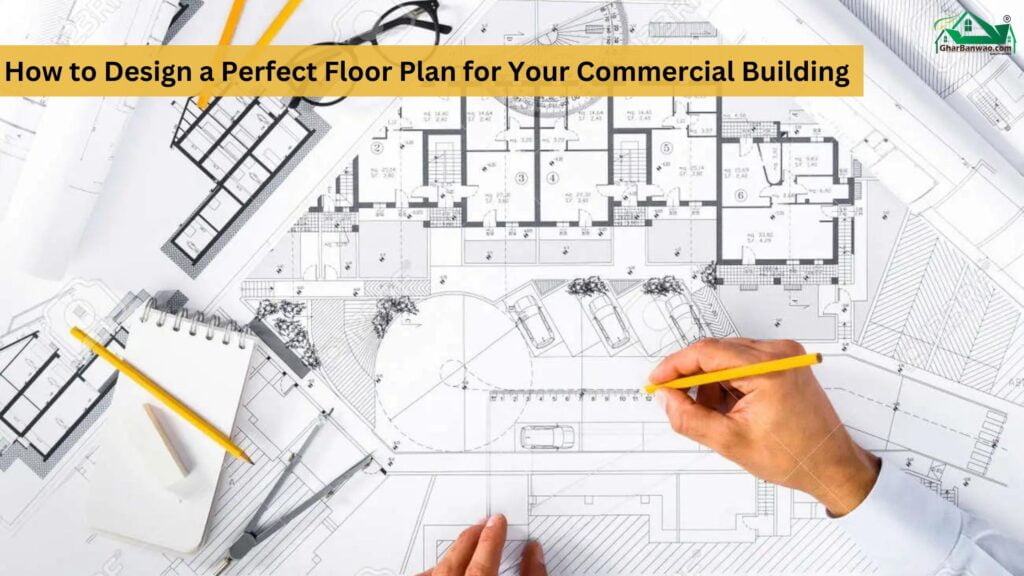 Create the perfect floor plan for your commercial building:
Your design floor plans will set the tone for your entire structure, which is why they must be perfect. The overall layout of your space is at the beginning of the design process when you consider how to construct the appropriate perfect floor plan for your commercial building. You can avoid hassles by ensuring that every component of your area works in harmony with the others. At Architeca Design Build Firm, we do it. We ensure that our floor plans are flawless from beginning to end, giving our clients fresh, practical rooms they can be proud of.
Create the perfect floor plan for your commercial building premises
Every firm is unique and will have various requirements for office space. However, there are a few aspects that apply to all spaces, so speaking with an interior designer like Architect Design Build Firm about how you want to design your new space before construction begins is beneficial. These pointers might assist you in designing the ideal floor plan for your business construction project. What creates a good office environment?
First, there are some universal rules for creating a suitable office space – most of which concern safety. Make sure your work environment is well-lit and has enough natural light so employees don't strain their eyes or get tired staring at computer screens. Employees should also be able to move freely without fear of tripping over wires or cables. You may want to invest in ergonomic furniture if you think employees spend long hours sitting at a desk every day. Finally, ensure that any areas where food or drinks are served are separated from the rest of the office to avoid attracting pests or bugs.
Things to consider before you start
Consider these five things when designing your commercial building. Not considering them can mean you end up with less-than-stellar results, which is never good for starting your business. Consider these factors in all design aspects – from flooring and seating to tables and bathrooms. Remember that many of these factors are not limited to commercial buildings, so keep them in mind no matter what you're building. The first factor to consider when designing your commercial building is its purpose.
It seems obvious, but you might be surprised how often people don't stop and think about why they need their new space in the first place. You may want an office space because you want more space or need privacy, or maybe you need something bigger or more suitable for dealing with clients. Think about exactly why you need your new space and write it down. Then make sure that every decision you make is in line with that goal.
Arrange the furniture
As an interior designer at Nagercoil will tell you, arranging your furniture is one of your first steps. Make sure your large and small appliances are properly located. The arrangement of each room should make sense so that everyone has space to work and can move freely around your home or office. By placing several pieces of furniture against the walls, space remains in other places for operation and storage. If there is no reason to use a piece of furniture on a daily basis, it is best to store it elsewhere.
The best construction company can offer advice on designing rooms with enough space to meet all your needs without being overcrowded. They may also recommend storing certain items in closets or under beds. Consider your needs before buying anything too big, bulky, or delicate – you may have trouble moving these items once they're in place!
Adapt to the traffic flow
To maximize your interior space, you need to consider traffic flow. At Architeca design-build, we use software to draw different floor plans to consider how traffic will flow in the space. By improving traffic flow, you'll be able to move more customers through your building in less time—and make more money. This is important when planning commercial spaces such as shopping centers and restaurants. If you want to increase sales, don't forget your customers! Their experience is most important.
Creating efficient workspaces
A modern office doesn't just mean having tables, chairs, and cabinets. People want workspaces with style, comfort, and a place that inspires creativity. Get rid of traditional furniture design; turnkey construction companies in Nagercoil enable you to create custom interior designs. They will work with you on everything from ergonomic design to color schemes, allowing them to create unique spaces that you can put your signature on.
Get rid of excess spaces
Commercial real estate is a little different than residential real estate. For living spaces, you typically have fewer walls and more open floor plans; however, with retail spaces, you'll likely have a few redundant areas that don't fit into your overall business model.
For example, if you run a car repair shop, why would you need a full-sized kitchen? What about the gigantic dressing rooms? If you need help determining which space is best for which purpose, ask luxury builders in Nagercoil or commercial construction companies. They can help create functional floor plans that streamline your operations and maximize profitability to get rid of excess space.
Space configuration and seating arrangements
For example, if you want to convert your retail business to a restaurant, you may need less space than a restaurant that also sells alcohol. Ideally, there should be enough space in every part of your floor plan to allow people to move freely. Space layout and seating arrangements may seem like things that don't matter, but when it comes time to sell, you can lose potential customers because they don't feel comfortable enough in your business.
Reduce the need for large storage space
We live in a throwaway world where many companies don't want you to have stuff. Try to get a space that doesn't need a lot of storage because it's a pain to have too much. Storage space is generally at a premium in ground floor commercial space as it is often used by shop owners who do not want their stock to be stolen or damaged during sales.
Use customization software
Using proprietary software from commercial construction companies, you can create a one-of-a-kind floor plan that meets all of your customers' needs. Customization and personalisation are critical in today's market, which is why you should talk with a professional before beginning building. When building, you spend a significant amount of time planning and assessing how to achieve the ideal balance of practicality and stylish design.
Also Visit-: https://nakshaabanwao.com/
Your free call is a click away- 09648259999
Nakshaa Banwao best architect service in lucknow, provides you a one stop solution for House design , Home plan , Interior design , Home design, Floor Plan , Elevation designs.
Conclusion
Creating a commercial building is more than just building four walls. It's about providing an optimal space that your customers can enjoy and use comfortably.
Ghar Banwao is Best Construction company in Lucknow , providing one stop Solution in Architect, Construction with Material,Interior designer.
Final Word
I hope this article contains all the answers to How to Design a Perfect Floor Plan for Your Commercial Building, answered in simple words, step by step. If you liked the article, check out our site for more content.