29

Dec, 2022
POP Designs for Your Living Room
One of the most creative rooms in the house is the living room. A unique entrance to your heart & house is POP Designs for Your Living Room. Nothing compares to designing a luxurious living room that meets your loved ones' needs.
You see, this is the only space that allows you to show your personality and life choices. Experts believe that the living room is ideal for playing with patterns, textures, furniture, and walls. But when it comes to ceilings, POP designs are the first choice of top interior designers.
The POP ceiling concept will catch many eyes in 2023. So what is POP? POP (Plaster of Paris) is a white, dense, quick-setting powder that is made from semi-dehydrated plaster. Plus, it's a heat-resistant and lightweight material that does a great job of hiding your smooth ceilings and HVAC systems.
Do you also plan to add a modern look to your living room? If so, you hit the mark guys. Read on as we outline 5 breathtakingly beautiful pop living room designs that are making noise in 2023.
Spice it up with layers and lighting for Your Living Room
Do you know that pop design for hall layers is all the rage in 2023? Many interior designers recommend this design because of its uniqueness and stunning appearance. But there is a catch. If you have a smaller living room, then you should always go for a single layer.
Thanks to this concept, the space will appear spacious and airy. On the other hand, more POP layers are recommended for a larger living room. It will give the space a timeless and minimalist look.
What about the lighting? Here are some dazzling lighting options to liven up your living room:
Illuminated ceiling panels
Recessed lights
Gimbal recessed lights
Symmetrical Masterpiece POP Designs for Your Living Room
Nothing can match the style and elegance of symmetry in your living room. Some basic black and white horizontal and vertical stripes are enough to wrap around your living room.
That's not all. Raise the bar by installing stripped LED lighting on each POP panel. And complete the look with monochrome decor and layout. However, avoid using pop colors in the room as they can distract you from the actual concept. Here are some tempting decoration ideas:
Choose the right shade of white
You can also go Greige (a combination of gray and beige)
If you are not a fan of black, then replace it with tangerine.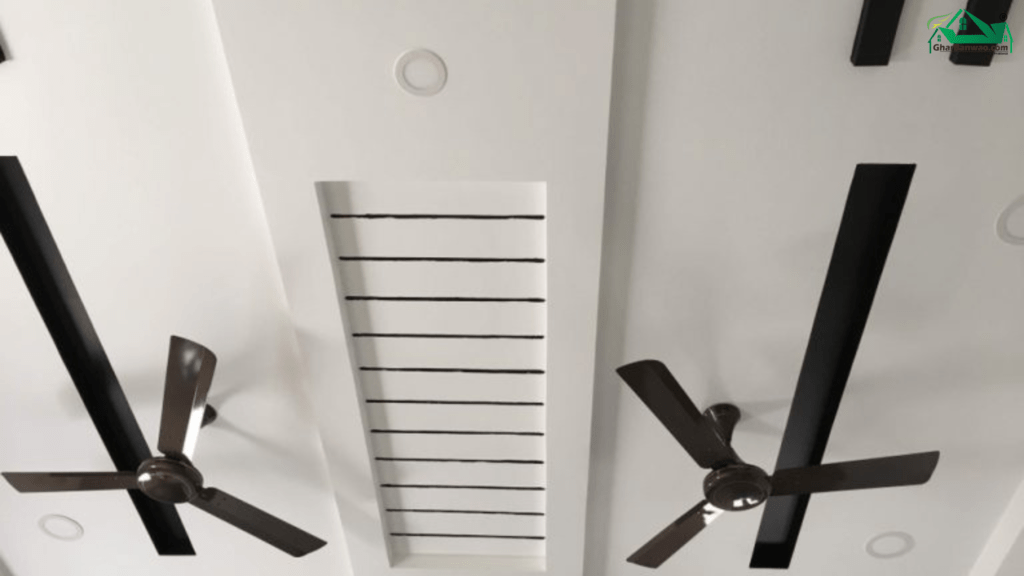 Surprise your family with delicate flowers
We all love flowers and floral designs, right? So why not use this concept for living room ceilings? It is one of the most beautiful pop designs for living room trends in 2023. These gorgeous POP flower petals will add charm to your living room.
That's not all guys. Use halogen spotlights to highlight each petal and watch your living room transform into a fairytale garden. Here are some interesting decorating tips to help you liven up the look:
Although the flower is the central motif of the design, avoid using too many floral prints in the room.
On the other hand, complementing the design with simple patterns will give the space a charming look.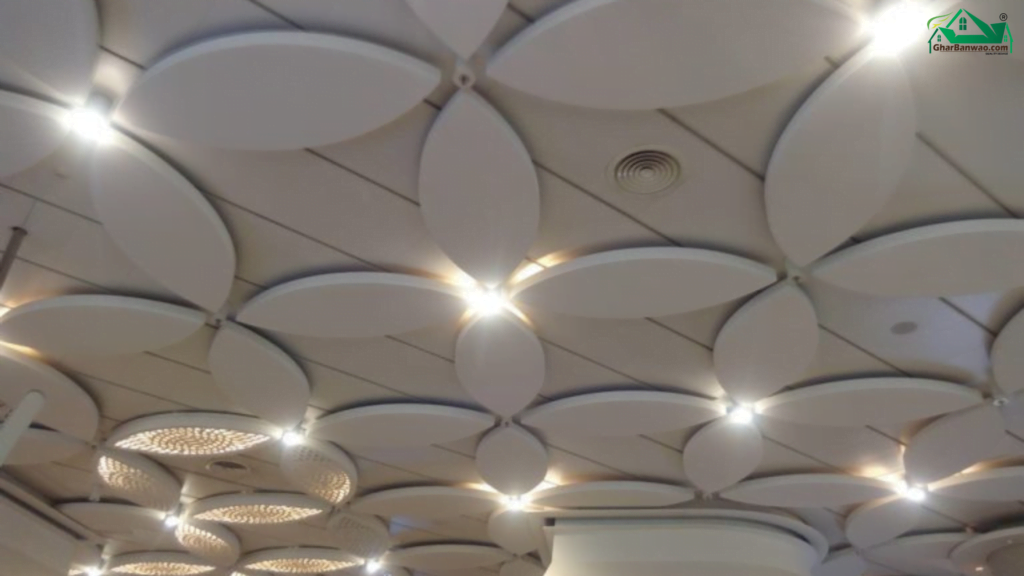 Turn up the heat with a POP recessed ceiling
Are you looking for a finished POP design? If so, this one is for you. Do you know what is most striking about this design? It offers a sophisticated look to the space without making anything seem ostentatious.
After all, this is the highest sign of sophistication. Recessed pop living room designs are excellent for homeowners who prefer subtlety over pomp. But what about the lights? Do not worry; we have you here:
Hanging lamps
Inverse pendant lights
Cove lights
Chandeliers
Or get a suspended island
The suspended island is another spectacular POP design for the living room that is ruling the charts this year. By adding a suspended island to the center of the tray ceiling, you can instantly enhance the aesthetics of your living room.
Here are some amazing lighting options that go wonderfully with what is quickly becoming one of the best false ceiling designs for the hall:
Cove lights
Gimbals
Flush lights
Hanging lights
Island lights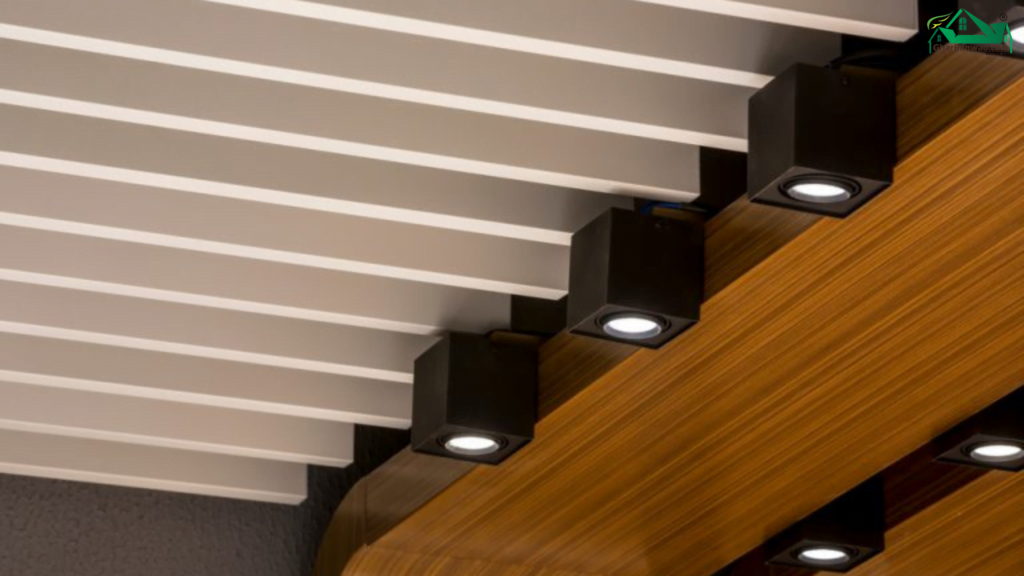 Decide on a Chequered POP Design for the Living Room.
Do you want to add a little personality and character to your living room? Choose a checkered false ceiling design for the hall like the one pictured above. It will add a three-dimensional quality to your living room. Adding spotlights to each square completes the look.
Don't miss the gray-white and brown color combination that continues on the walls of the living room and creates design symmetry. checkered living room design pop.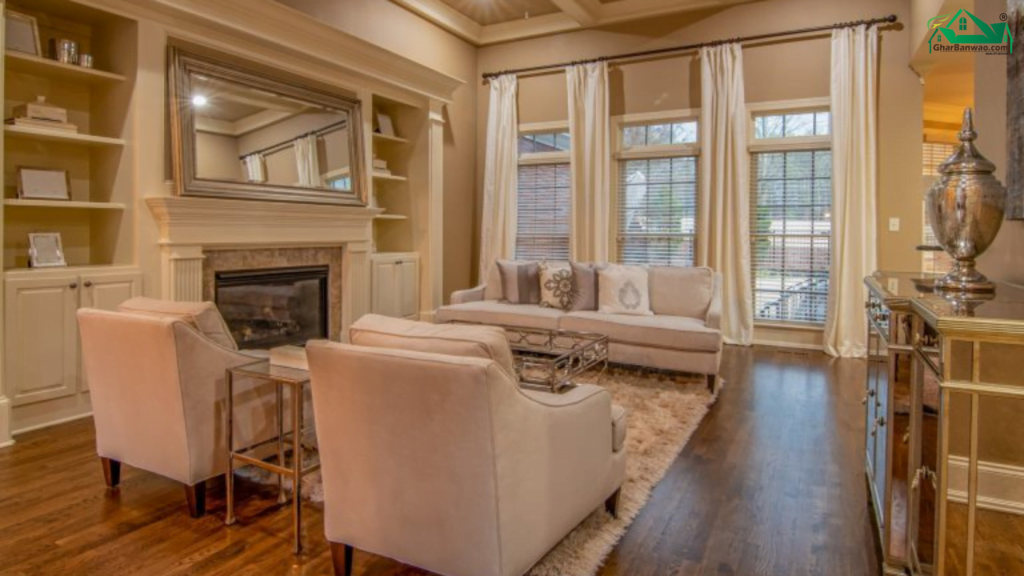 Create layers in your living room with different ceiling heights
A POP design for the living room is perfect for adding layers of height to the space. For example, look at the example above. The slanted section of the POP design near the window adds layers of heightened illusion (pun not intended) to the space.
Also, notice how the window area is cozier than the rest of the space. It gives off a more compact vibe because it's closer to the floor. So if you want to create dedicated sections in your home with different vibes (think; casual, formal, hip, etc.), use POP designs. store living room with different ceiling heights.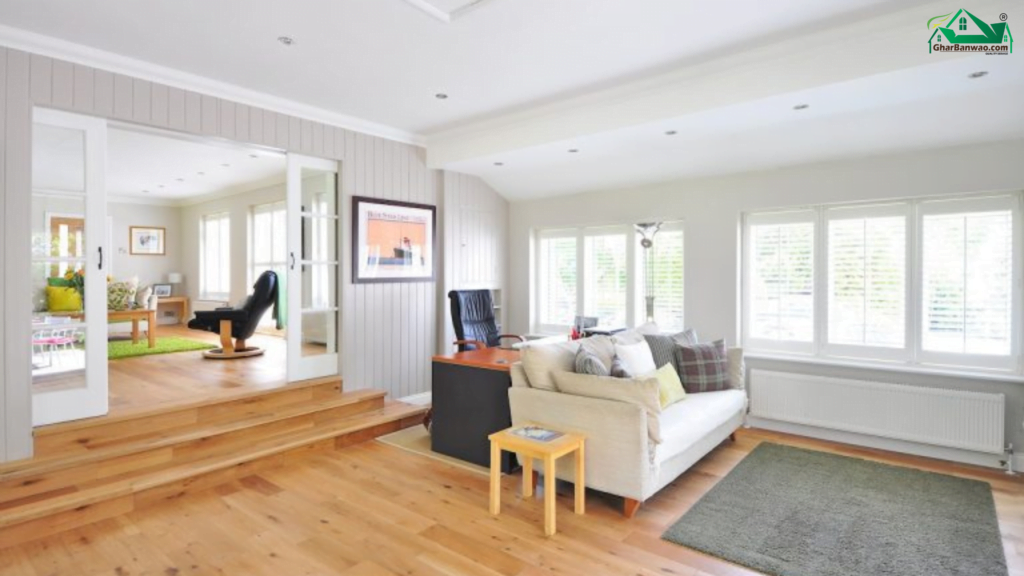 Choose a clean and easy-to-do false ceiling design
If you don't have the bandwidth or energy to tackle a dramatic change to your POP living room design, take inspiration from the design above. You can add thin panel strips to create a rectangular frame on the ceiling; this idea works wonders.
Instead of making your roof look like a plain and simple extension of your home, add POP panels to give the space character. easy cleaning of the false ceiling structure.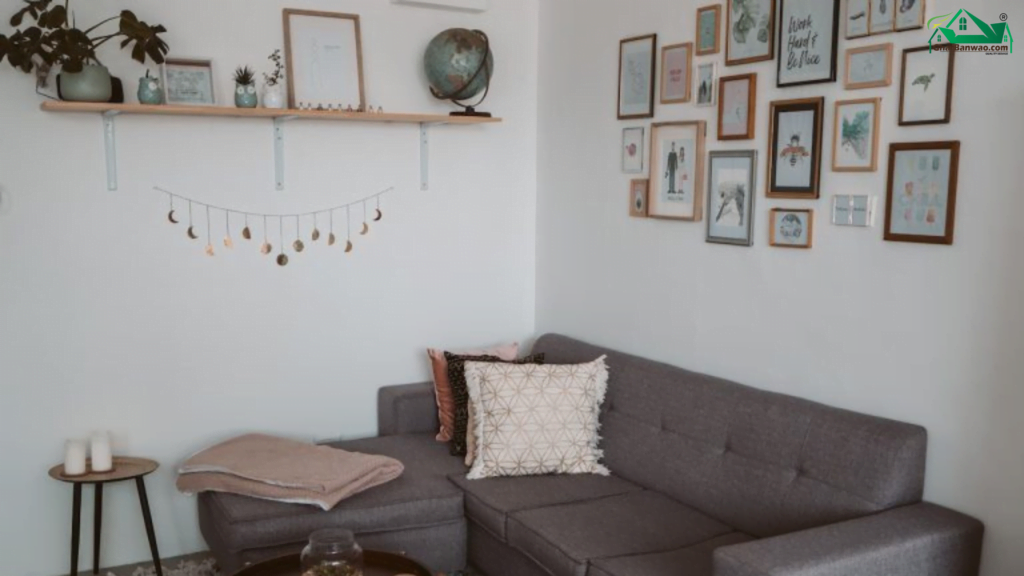 Conceptualize the framework throughout the room
If you don't want to create a POP design right in the middle of your ceiling, why not consider the idea shown in the example above? Here, the POP design for the living room redefines the frame of the room – just like a picture has white edges. Notice the layered lines in all four corners of the room. They create a perfect image for the viewer.
One thing to note about false ceilings is that you need to complement them with the right kind of lighting to ensure that the space is always well-lit and vibrant. choosing the right framework.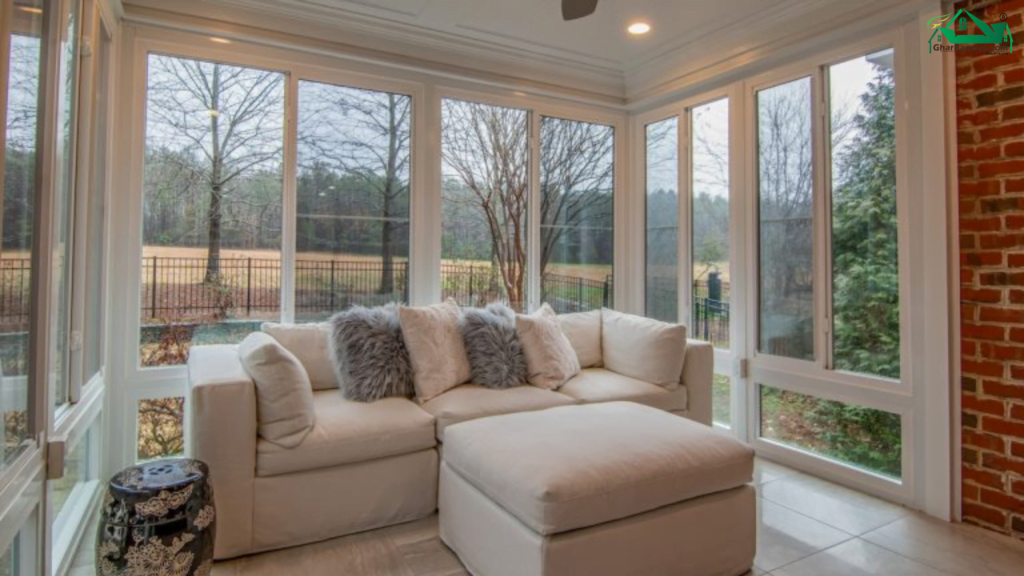 A wooden POP design for the living room is always a good idea
If your living room is inherently built with richly colored wood elements (such as wooden floors), you can add wood paneling with exposed ceiling surfaces as shown above. This type of POP design lends a cozy, warm and comfortable look and feel. Moreover, it resembles a cabin.
The look is completed by the use of cane soft decorative elements such as jute mat, cane industrial lighting, and jute poufs. This type of decor is also reminiscent of rustic Indian living room interior design.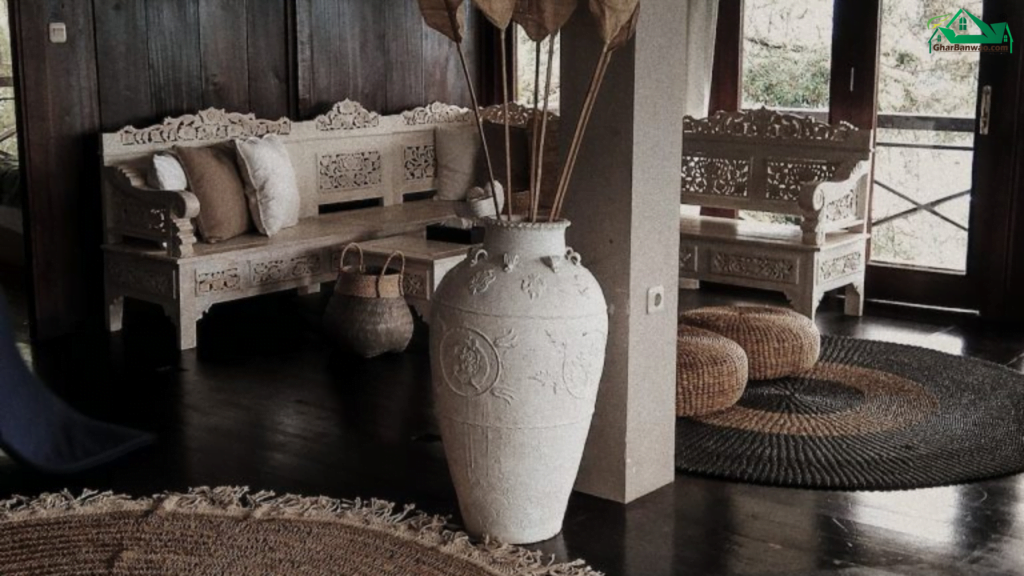 Quick tips for color combinations of your POP ceiling
Make your living room pop with these amazingly creative color combinations.
Choose purple, orange, yellow, or red to add a special touch to your living room.
Shades of white and mustard yellow are excellent for melting warmth and comfort into your nest.
Do you have neutral interiors and white walls in the living room? If so, aquamarine is the color for you.
Choose the beautiful colors of ivory and ebony to add a pop of color to your living room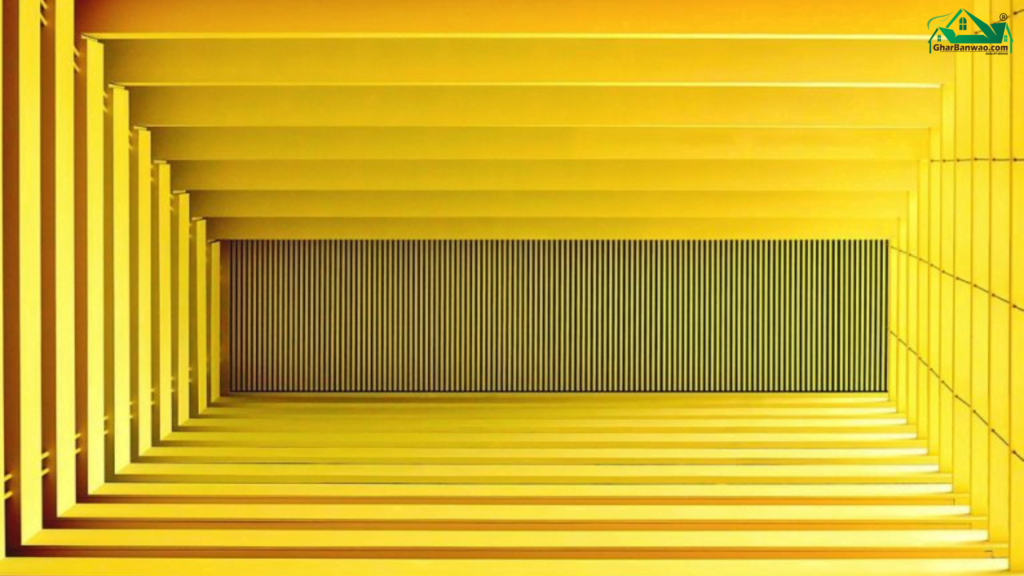 So do you prefer complex conventional designs or elegant modern designs? Whatever you choose, you can customize the false ceiling design to make your living room look more opulent and extravagant. The best part is that it can help you bring the perfect balance of simplicity and extravagance to your living room.
Trust the best on the market when it comes to living room designs. Gharbanwao is a leading and trusted customer-focused brand that offers customers comprehensive home interior solutions. Get in touch with them today and get the best pop interior designs for your home.