31

Oct, 2023
6 POP Ceiling Designs for stylish Living Room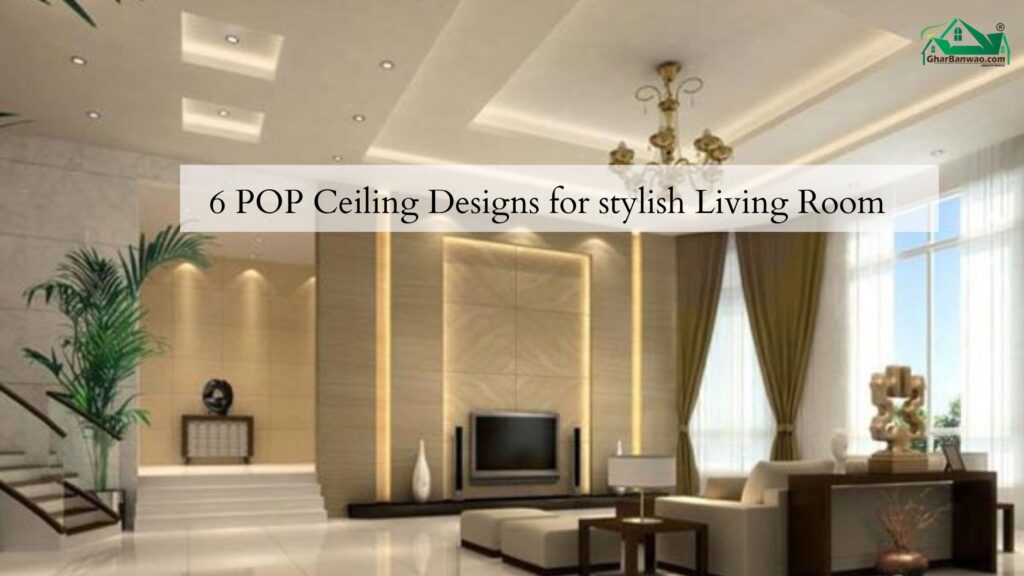 POP (Plaster of Paris) is the most popular modern pop ceiling design because it gives your home a stylish and mesmerizing vibe. Furthermore, the modern simplistic pop style is inexpensive and straightforward to install. If you've decided to put POP designs on your living room ceiling, you've made the proper decision. This blog contains a variety of POP designs to help you decorate your area. Check it out. 
1) Plus-Minus POP Design
The era of all-white ceilings has gone. This is the era of using contrasting colors to enhance the charm of your ceiling. Construct a rectangular or square-shaped POP on the ceiling and add an equal (=) sign on each side for a plus-minus look. Keep the color of the rectangular POP light and the signs on it dark. The numerous color combinations you can consider are dark blue and yellow, peach and brown, grey and yellow, or violet and light pink. The color choice also depends on the other interior elements of your living room. Furthermore, not only ceilings, but you can also use this modern simple pop design on your living room walls. For additional enhancement, using an oval-shaped POP in the center of the rectangle can be icing on the cake.
2) Coffered POP Design
If you want your ceiling to look architectural, you can try the Coffered POP ceilling design. This living room POP interior design encapsulates a grid pattern. To enhance the look of the coffered POP design, you should use two color combinations, which means keeping the recesses light-colored and the protruding edges of the recesses dark. For instance, if your living room has a color-drenching effect (say, white), you can use a white shade for recesses and beige for its protruding edges. Make sure that your living room ceiling is 9-10 feet high so that the protruding edges don't feel like they are on the top of your head.
Also Read: 7 Low-Cost Home Improvement Ideas
3) POP Ceiling Designs with LED Lights
A ceiling without LED lights may look dull and repulsive. You can pair your modern simple pop design hall with LED lights. There are plenty of POP design ideas with LED lights to illuminate your living room.
Recessed LED POP Design: This POP design is suitable for low ceilings. In this POP design, lights are fixed on both recessed and protruding edges.
Cove Lighting LED Design: This POP design is meant for compact or large living rooms. Cove lighting gives the impression of a false ceiling.
POP LED Design with Chandelier: The Chandelier is a thing of royalty and class. A simple POP design paired with a big chandelier can add personality to your living room.
Abstract POP LED design: This modern ceiling design has 2-3 rectangles overriding each other and is equipped with blue-colored LED lighting. 
POP LED Design with Pendant Lights: This design is similar to the recessed LED POP design. The only difference is that the ceiling has pendant lights in the center. This is also a bedroom modern simple pop design.
4) Double-panelled POP Ceiling Design
In this POP design, one POP rectangle has halogen lights, and the surrounding POP rectangle has edge lighting. You can use this pop design for your living room if you have a compact living room and want to make it lively.
5) POP Ceiling Design with Curved Edges
Having a circle-shaped roof design in a rectangular or square living room can be a stunning idea too. Have a look at some of the POP ceiling designs with curved edges.
Round Ceiling Design: In this living room simple pop design, the recessed area has three circular POP designs equipped with LED lights.
Round Ceiling with Lights: Have you seen concentric circles? This POP design is similar to two concentric circles, except for the tangency point of the inner circle colliding with the tangency point of the outer circle. And the POPs have small LED panel lights all over them.
Gypsum Round Ceiling Designs: The gypsum pop design for the hall has circular sections fitted with green edge lights to give a galaxy-like look to your living room.
Maze-like POP Design: This maze-like POP design has a circular design with a recession in the center that is a fan spot, and there are path-like designs surrounding the circular POP. The whole design gives a maze-like look to the ceiling and is modern and trendy. You can add edge lights to the recessed areas on the ceiling.
Layered POP Ceiling Design: This pop design for the drawing room is a mixture of curved POP, circular POP, and wooden panels. The panels can be adjusted across the circular POP, and the outer curved POP can have LED panel lights.
6) A Blend of Wood and POP Ceiling
In this ceiling design, you can have a wooden base on the ceiling covered by a rectangular POP design with a recession in the center. You can put the LED lights on the visible wooden base. If you want, you can also use this simple pop design for your bedroom.
In Conclusion
POP designs are the most commonly used interior decor idea for adding character to your living room. With plenty of POP designs flooding the industry, you can choose the modern simple pop design that fits your style or needs. It is recommended to seek professional help from an interior design company like gharbanwao. Gharbanwao will help you pick the best POP ceiling design for your living room and add your personal touch to it. Contact here.
Ghar Banwao is Construction company in Lucknow , providing one one-stop Solution in Architect, Construction with Material, and Interior design.
Final Word
I hope this article contains all the answers to the, 6 POP Ceiling Designs for Elegant Living Room answered in simple words, step by step. If you liked the article, check out our site for more such content.