31

Jan, 2023
Top 10 Best Construction Companies In Lucknow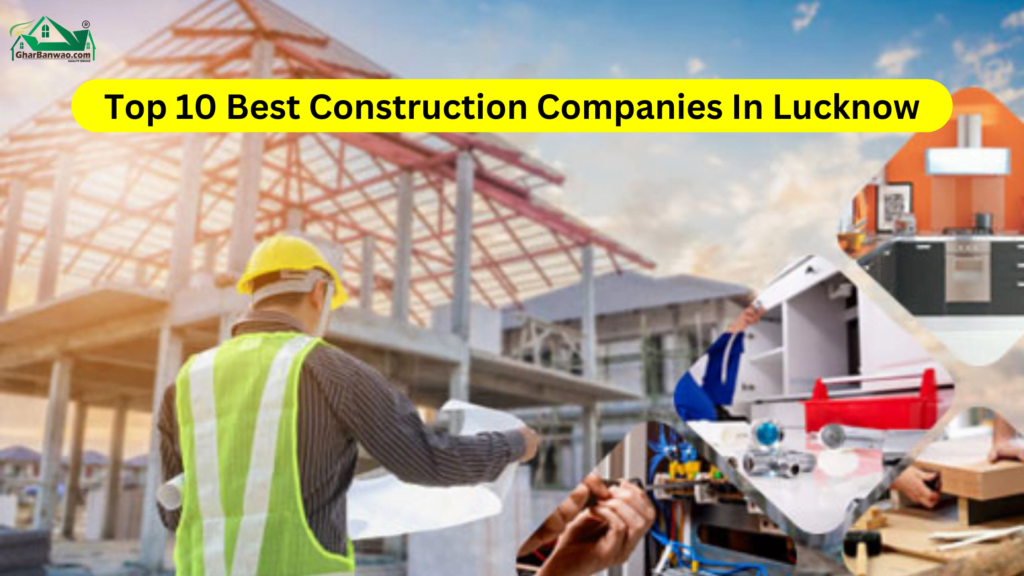 Top 10 Best Construction Companies In Lucknow
1. Ghar Banwao Construction company
Ghar Banwao is best Construction company in Lucknow , providing one stop Solution in Architect, Construction with Material,Interior designer. Ghar Banwao is a Construction company in Lucknow. It has been Launched with the vision of Catering the needs of the people on a single platform irrespective of all kind of things required for construction in entire India.
Gharbanwao aims to provide hassle-free & effortless search for the Right option for their Desire to build dream home. We are first revolutionary initiative to change the overall lookout of construction in Lucknow & to provide best connection platform to the customers & trader's across India. We have a team of Best Architects and Civil Engineers in Lucknow.
Address: 13/132, Infront of Munshipulia Metro Station, Lucknow, Uttar Pradesh 226016
Contact: +91 9648259999, +91 9648249999
Email: gharbanwao@gmail.com
Website: https://gharbanwao.com/
2. Shalimar Corp Limited
Established in 1985, the Shalimar Group, popularly known as luxury property builders in Lucknow is a diversified Business House headquartered in Lucknow, India. The Group's footprints span sectors such as Real Estate, Property Management, various Allied Services, Civil Construction, Imports & Exports and Glass Processing. An ever-growing and expanding business portfolio is the group's hallmark which is steadily establishing itself as a leading Business Conglomerate.
3. Apco Infratech Pvt. Ltd
APCO INFRATECH PVT. LTD is an ISO 9001:2015 &OHSAS 18001:2007 certified professionally managed organization with a dedicated team of 3000 engineers and professionals. It has many milestones underlining its growth journey in the Highways, Energy, Tunnel, Irrigation, Urban infrastructure & Industrial development.
APCO has aligned its vision with that of the Government of India to put the country on the global map. APCO is also one of the protagonists of Prime Minister Narendra Modi's dream of India becoming a $5 Trillion economy. APCO is also the first company in India which has been awarded the very first Hybrid Annuity Mode (HAM) Project in India the Meerut- Bulandshahr in the year 2016
Address: Apco Infratech Pvt. Ltd. APCO House B-9, Vibhuti Khand, Gomti Nagar Lucknow – 226010 
Contact: 0522-4036100
Email:  admin@apcoinfra.com
Website: https://www.apcoinfra.com/ 
4. Viraj Constructions
It is a leading Real Estate company headquartered in the capital city of Lucknow. The company is currently developing its most ambitious project to date i.e., BBD Green City, with over 50 lakhs square feet of Real Estate in development, consisting of commercial and residential projects.
Address: BBD Viraj Towers, Vibhuti Khand, Shaheed Path, Gomti Nagar, Lucknow, UP, 226010
Contact:  +91-522-6659500, +91-9696333555
Email: hr@virajconstructions.co.in
Website: https://virajconstructions.com/
5. Shri Balaji Construction Company
Shri Balaji Construction Company, a well-known Real Estate Developer with a market presence for over a decade, is headquartered in Lucknow, India. Real estate, property management, other allied services, civil construction, imports and exports, and glass processing are a few industries where the group has its presence. The group's aim is an ever-expanding business portfolio, and it is slowly establishing itself as a prominent Business enterprise in India.
Address: 3rd Floor, Ganj Trade Centre, 10 Capper Road, Near Hazratganj Kotwali, Lucknow 226001 (India)
Contact: +91-8287300030
Email: care@bccbuildtech.com
Website: https://bccbuildtech.com/
6. M.I. GROUP
M.I. GROUP is a renowned real estate company that has attained excellence through expertise and foresightedness. The company was incorporated in 1987 under the Indian Companies Act of 1957. M.I.Group focused vision, constant efforts, and utmost dedication have helped develop a blueprint for its ceaseless growth in the real estate domain. Its virtuoso projects are sited in supreme locations of NCR and Lucknow, which are well furnished with all modern utilities. The company's future endeavor lies in the main objective "Coming together is a beginning, keeping together is progress and working together is a success."
Address: 6th Floor, 9A, New Janpath Complex, Ashok Marg Hazratganj, Lucknow (U.P) – 226001
Contact: 9696303786
Email: sales@mibuilders.com
Website: http://mibuilders.com/
7. Paarth Infrabuild Pvt. Ltd.
Paarth Infrabuild Pvt. Ltd. envisions emerging as one of the most reliable, recognized, and recommended names in the Real Estate Industry. To realize this vision, their workforce and associates strive to achieve excellence in every aspect of development to enhance the quality of living for our customers by designing lavish, luxurious, affordable, and eco-friendly projects that exemplify modern-day lifestyles without affecting the environment. It takes pride in being amongst the leading real estate developers in North India; It achieved this feat because we perform the best and most ethical business processes and execute them with due diligence and accuracy.
Address: A-5/408, Viraj Khand, Gomti Nagar, Lucknow-226010
Contact: 0522-4500500
Email: sales@paarthinfra.com
Website: https://www.paarthinfra.com/
8. Chandra Modern Builders
The Journey of Chandra Modern Builders began with a dream: To build homes where residents can live in ultimate luxury, surrounded by world-class amenities. A dream to build an environment where tranquility and excitement happen alongside.
Envisioned by two stalwarts of the construction business in North India, Mr. Alok Chandra and Mr. Ashish Chandra, Chandra Modern Builders strives to provide lifestyles that are not only worth the homebuyer's money but also worth his / her dreams. The company backed its vision with a strong organizational culture that encouraged looking beyond immediate gains and embracing innovation at all possible levels.
Address: Chandra Modern Builders (India) Private Limited, 1st Floor, Nikhilesh Palace 17/4, Ashok Marg, Lucknow – 226 001
Contact: 7607900304
Email: info@chandramodernbuilders.com
9. Rishita Developers
In the last 14 years of a long and prolific journey, Rishita Developers – one of the most trusted and premium Real Estate Builders in Lucknow, stood synonymous with a global lifestyle and higher living standards. This was possible by creating modish architecture, lavish landscapes, engineering marvels, and contemporary amenities. Rishita never ceased to build a legacy of 'trust', staying true to its motto – "Your trust, Our pride".
RDPL celebrated a moment of pride when the builder was revered with glorious awards and accolades including"UP Ratan Samman in 2019" and "UP Brand Leadership Award" for the most 'Trusted Real Estate' by ABP News. It was yet another commendation when the builder was acclaimed in the highly famed Forbes magazine, under Special India Edition named as "High Performing Human Assets".
Address: Coronation Anand Tower, 1st Floor 116-117, Vibhuti Khand, Gomtinagar Faizabad Road, Lucknow- 226010
Contact: 8081333444
Email: sales@rishitadevelopers.com
Website: www.rishita.in 
10. Sivanssh Infrastructure Development Pvt. Ltd. (SIDPL)
The Company was initially incorporated in June 2000 under the "Smart Constructions Pvt Ltd", under the Companies Act, 1956. Subsequently, the name was changed to Sivanssh Infrastructure Development Pvt. Ltd. (SIDPL) on 1st January 2009. SIDPL is a national construction company specializing in general contracting and construction management.
Address: 002, Gauri Apartments, 57-Hilton Lane, Meerabai Marg, Lucknow – 226001
Contact: 0522-4233015
Email: info@sidpl.in
Website: http://sidpl.in/
Conclusion
This list of the top 10 best construction companies in Lucknow for 2023 is here to help you decide when selecting the right construction company to handle your project. And if you are looking for any job opportunities, check their website's career section for any latest job openings. Each one of these companies has something different to offer, and they all have a proven track record of success, so you can rest assured that whichever one you choose will be able to provide excellent service. Research each company, ask, read reviews, and find out which works best for your needs. Good luck!
Ghar Banwao is best Construction company in Lucknow , providing one stop Solution in Architect, Construction with Material,Interior designer.
Final words    
I hope this article contains all the answers to the Top 10 Best Construction Companies In Lucknow, answered in simple words, step by step. If you liked the article, check out our site for more such content.