13

Jun, 2023
What Are "Back Charges" in the Construction?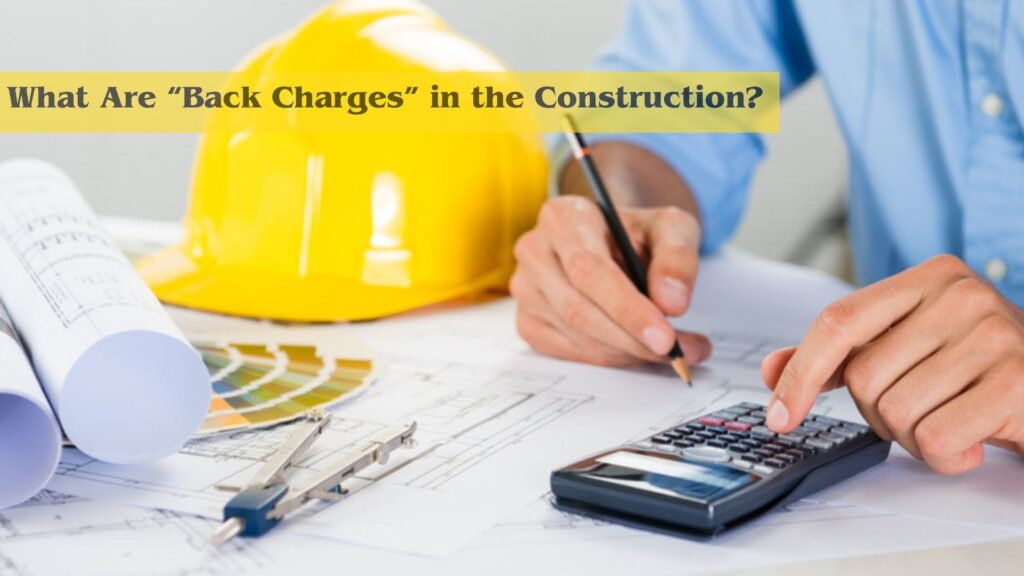 A back charge is a billing intended to recover an expense from a previous billing period. It could be due to the recipient of services or goods failing to pay, an adjustment owing to an error, or the need to recover an expense that was not billable until a later period due to scheduling concerns.
Construction projects are only finished with the general contractor encountering a problem with a subcontractor or vendor. When issues arise, the parties responsible for payment must have a process in place to charge a sub for any direct and unplanned expenditures incurred as a result of the sub's work. In construction, this is where back charges come into play.
Construction Back Charges Explained
A back charge is essentially an offset for unanticipated costs. To get right to the point, let's look at generic contract law.
Contracts provide for the recovery of damages when one party fails to perform. Damages are awarded to "place the injured party in the position they would have been in had the contract been performed properly by all parties." The same logic applies to back charges.
Back charges can be incurred in several ways:
faulty work/materials (cost to finish/replace)
Worksite damage (repair costs)
cleanup (costs incurred to maintain worker safety or OSHA compliance)
Equipment use (rental/use fees)
If you, as the general contractor, need to pay more to repair, replace, or clean up the work of a subcontractor or vendor, the expense can now be borne by the party that should have finished it in the first place.
Before proceeding, keep in mind that back charges in the construction are not statutory (i.e. mandated by law). They are, rather, contractual rights. This means they are governed by the terms of a contract (assuming they are included in the contract at all). Many subcontracts include provisions for back charges, but many do not.
If a contract does not provide for back charges (also known as "a right to set off"), withholding may not be a smart idea.
Back Charges Success Factors
If you're not diligent, back charges can be troublesome. Communication and documentation are the two most important considerations. (To be honest, most construction disagreements might be settled by dialogue and documentation – but that's a topic for another blog post!)
Communication
It is best practice to expressly state any back charge notice requirements. Check that the subcontract has adequate notice provisions. That is, if you incur back charges, make sure you are advised of them and given enough time to remedy, repair, or clean up any faults generated by your team's work.
According to the document, a contractor must provide notice before incurring any back charges. The subcontract then stipulates that another written notice be delivered 7 days after the services or materials were rendered. Finally, by the 15th day of the following calendar month, the contractor must deliver a formal compilation of the charges.
Many GCs, however, utilize their own contract forms, which can change any or all of the notification requirements. Even if it is not required by contract, it is excellent practice to maintain communication in order to reach an acceptable conclusion.
Also Read:- Top 10 Best Construction Companies In Lucknow
Documentation
Proper and precise documentation is essential, whether you are the GC or the sub! When sending notice of substandard work to GCs, add as much detail as feasible. Take progress shots for your records if the sub decides to take corrective measures. If the sub does not correct the faults, it is critical to preserve separate invoices and timesheets for the back costs to present to the sub/vendor upon completion.
If the back charges are disputed for any reason, it is critical to provide sufficient evidence that they were directly caused or incurred by that specific sub.
On the other hand, the subcontractor should document all phases of the work accomplished. When courts examine back charges, they look to see if the incurred expenses are "within the scope of the contract." This is a pretty broad interpretation, and it is not always a hard and fast rule (especially when it comes to cleaning up or causing harm to an unrelated aspect of the project).
Keeping accurate documents can assist you in contesting any unjustified back charges.
Ghar Banwao is Construction company in Lucknow , providing one stop Solution in Architect, Construction with Material,Interior designer.
Final Word
I hope this article contains all the answers to What Are "Back Charges" in Construction? answered in simple words, step by step. If you liked the article, check out our site for more such content.